The day before while in our room, Beth noticed that along with the do not disturb and dry cleaning services there was another convenient option for those not looking to go to a dining hall or designated table for breakfast everyday. We woke up early to breakfast via room service on this lovely cloudless morning and I had what turned into my 'usual' for the rest of the trip; scrambled eggs, bacon and sausage links, toast, orange juice and an oat cluster cereal from Kellogg's that escapes me currently. I typically skip breakfast since I wake up so late, but with these oh-so-normal hours and long afternoons of walking miles in the sun I figured it was the smartest thing to do. We ate, then I opened the blinds to see what the view was like at our new destination. We then got washed up and headed to the auditorium where we met with the rest of our excursion group.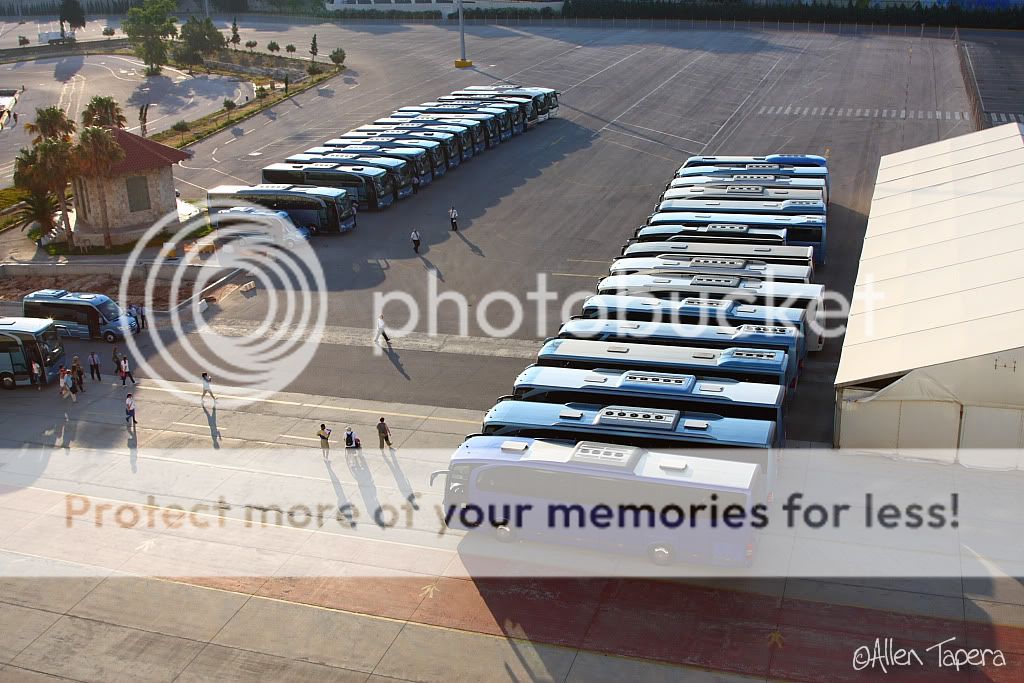 Ours was the white one...
Athens traffic.
The 'Taste of Athens' excursion was a seven hour adventure that took us through the city of Athens to the Acropolis, passing by several major historical and otherwise notable sites; the Temple of Olympian Zeus and Hadrian's Arch, the National Gardens & Library, the Parliament Building and Parthaninion Stadium. The bus left the parking lot of port and our guide walked us through all the aforementioned sites as we worked our way around tight suburbs in a huge bus. It was odd to see orange trees everywhere along the streets in place of the non-descript trees typical in the US. Where you didn't see orange trees there were these other trees that looked familiar, but foreign at the same time; these turned out to be olive trees. As we worked our way through morning rush-hour traffic in Greece on the way to the Acropolis, it became clear that olives and the trees they come from are like weeds back home. If only our yard weeds made such a great oil for cooking. On our journey we also saw plenty of great views of the many marinas and saw much of the city. Space is at a premium in Athens, and most storefronts, shops and dealerships were literally built on top of each other.
The calling card for our tour group.
We arrived at the base of a large hill where our guide gave us the rundown on what would take place over the next couple hours. Looking around I could already tell we were in for a treat. The tips of ancient buildings and structures peeked from behind trees at our low altitude and I got my mojo working by snapping local surroundings while our guide got our group organized for the trek up to the Acropolis. Word has it there are about 150 steps to reach the summit, but I can't say that I kept count. I do know that it was a good bit of hiking, but along the way the views increased in beauty.
One of the adjacent stadiums at the Acropolis.
We reached the Porpylea Entrance with about a thousand people from around the world and came upon the jewel of Greece's crown; the Parthenon. The Parthenon is under constant maintenance as you can see, with workers restoring it's remains on a daily basis. Looking back it was pretty surreal to see another school history book memory in person, and it never got old the entire trip. While walking around you could see the Temple of Wingless Victory and at an even higher point, a fort-like perch bearing a Greek national flag. This higher point was adjacent to a stone wall with hundreds of people scattered along its edge. We made our way over there to see the view of the day.
Porpylea Entrance.
On to the main event.
Under construction.
Our guide let us wander for about 20 minutes to see everything in the Acropolis. Beth and I took a rare picture, with both of us in it, after I took a few of her for her online profiles. We then worked our way down the 150 odd steps to rejoin our group, and bus, then head to Plaka for the second half of the days excursion. It was almost noon at this point and my stomach was grumblin'. Once at the base of the Acropolis again I shot a bit more on a local side street. Soon afterwards we got onto the bus and headed to Plaka.
The part of Plaka we got dropped off in was as tourist catered as you can imagine; a row of restaurants, gelatarias (yes they have those here too), souvenir shops and a museum further up the hill. Our guide bid us farewell, we got the meeting time for the bus' return trip to the ship, then Beth and I made a b-line for the first restaurant we saw. It was called Eetiatopio and was run very similarly to the Italian ristorantes we had visited previously. A veteran server took our orders and brought back my Greek beer, Beth's bottled water and our salad and some fresh bread. We had a Greek salad (surprise) and it was topped with the best feta I've ever tasted. Might I add that I
don't
seek feta cheese out. It was a seemingly aged brick of feta, brand stamped via depression, broken into a couple large chunks over our greens like a chocolate bar. They had high quality olive oil and vinegar on the table along with a napkin tin much like Sicily's Dolce Vita. The salad ingredients were fresh and the flavors were strong. Then our main dishes arrived...what a treat. I got fish and Beth got a gyro. The fish was cooked whole on the bone with local herbs, olive oil and lemon then deboned by our server at the table. Much like other dining experiences I had while overseas, early in our trip, I lunged towards my plate prior to my server finishing the presentation because, I'm not used to ceremonial presentations and courtesies of this nature. Being hungry didn't help. Once green lit, I dug in...so succulent, so delicate in flavor, so good.
Satisfied, we got up then wandered around the block we were on. Further up from the bus drop off, past all the restaurants and shops there was a archaeological museum. On the buildings surrounding the museum you could see more graffiti from the
frustrated locals
. If you haven't been keeping up with world events, economic problems are widespread and Greece has been hit worse than most. There are multiple causes, the most infuriating of which to the people being current leadership burning through the countries funds through personal usage. During our trip through Athens earlier that morning we saw evidence of all the protests that are currently ongoing in Greece. Things had calmed down quite a bit by the time we arrived, and since we were taking a tour bus everywhere we didn't run into one of the bigger local problems this summer which was the
taxi driver strike
. Some friends of our were
lucky
enough to experience this first hand on their honeymoon in Greece a week or so later. Banners and signs of the peoples' thoughts were outside major government buildings, presumably waiting for protesters to return to them on a daily basis. Our guide shared her feelings on the situation, in a very politically correct way, but it was obvious that the people want major change in the state of affairs and look forward to building things back up to where they used to be. In the meantime though, tourism dollars like ours were a major source of relief for many, albeit on a micro-level.
On the road again.
Heading back to the meeting point, we checked out local shops for schwag to bring home as gifts. We found a few small store fronts with a variety of goods, including Greek honey which was packed with various nuts and available in plenty of sizes. There were also quite a few liquor varieties with some rather interesting
packaging
. The worst part about our lunch and the majority of the pictures from this side-trip (including our picture together) was that I had a memorycard downloading problem that lead to me loosing 700 shots from the days' adventures. Due to the cost to attempt recovery of these pictures, I'm not sure I'll be going after them. It's really disappointing, because I don't shoot anything I don't want to keep and this was a pretty important set. No worries though, we'll just have to visit Athens again to rectify the matter.